Butcher's Department – Always quality, fresh and tasty meat
In our specialized butcher's departments we always offer fresh chicken, pork, beef, veal, rabbit meat, as well as different meat products.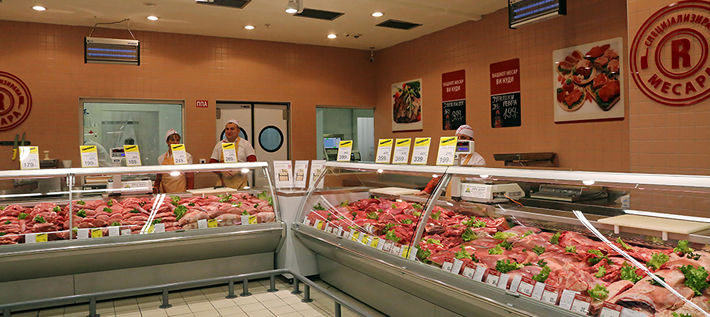 We sell meat of highest quality sourced from reputable Macedonian and foreign producers. We process and prepare the meat in our production plant and distribute it for sale to the supermarkets in accordance with all HACCP requirements for safe food production.
New packaging available only in Ramstore
Specially prepared in our Butcher's Shop
As of the beginning of November 2015, the meat products (mixed minced meat, beef minced meat, kjebap, burger, sharska, ajduchka) are packaged in a special packaging available only in Ramstor supermarkets.
The meat products packaged in a protective atmosphere are prepared in accordance with all HACCP requirements for safe food production.
The packaging in a protective atmosphere represents a well established packaging technique which helps to preserve the safety and freshness of food in a natural way.
The products packaged by applying the standard packaging technique remain fresh one or two days, whereas the products packaged by using this technique remain fresh and safe for consumption by the expiry of the best before date marked on the packaging.
The products are ready to cook and consumers may just pick them up without having to wait for them.
The packaging is practical and easy to use since it does not leak.
The products are available in all supermarkets in Skopje, Kumanovo, Ohrid and Kichevo.
Fishmonger's Department
Always fresh fish and seafood.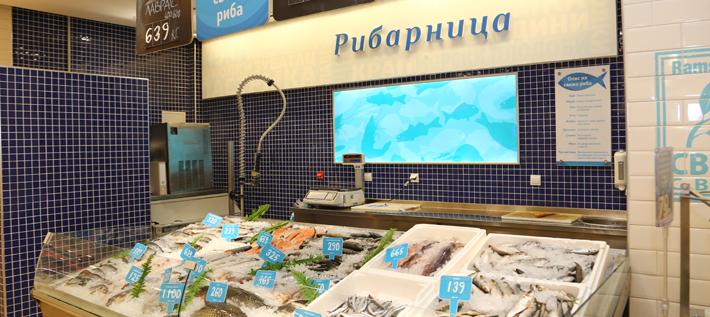 We always offer a wide selection of high quality fresh freshwater fish, sea fish and seafood. Salmon, gilt-head bream, seabass, sardines, pangasius, trout, carp, crabs, octopus, shrimp, squid represent just few types of the variety of products you may find in our specialized fishmonger's departments located in the supermarkets in Center and Capitol.
Bakery
Every day there is a wide offer of various types of bread, bakery products and sweets in all our supermarkets
Sesame bread, domestic bread, integral bread, cornbread, olive bread, walnut bread, baguette bread, achma, pogca, pide, sesame-covered bread rings, ciabatta bread, burek, small pies, croissants, domestic pies, pizzas, cakes, baklava, doughnuts, muffins, éclairs, tiramisu represent just a selection of the products which are sold every day in the bakeries located in our supermarkets.
Ready Meals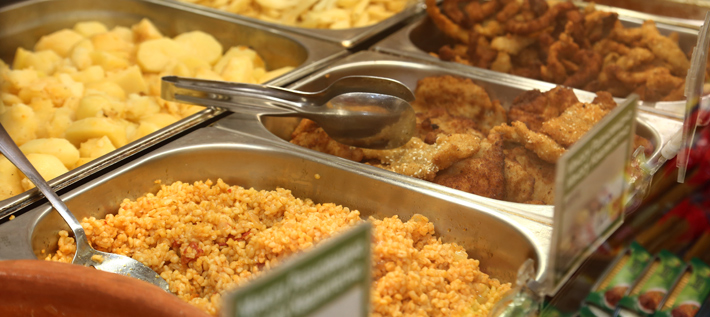 Rice, moussaka, baker's potatoes, macaroni, chicken steak, chicken fingers, cooked peas, beans, stuffed peppers, spinach, sarma (with or without meat), salads (Russian, French, Italian etc.) represent just a selection of the ready meals offer which may be found every day in the supermarkets in Center, Novo Lisiche, City Trade Center, Gorno Lisiche, Capitol, Kapishtec, Debar Maalo, Parliament, Vodno and Aerodrom.
Fruits and Vegetables
Wide offer of fresh fruits and vegetables in all our supermarkets