Ramstore, which commenced its operations in 2005 as part of Migros Ticaret A.Ş, is the largest chain of supermarkets in the field of international retail supermarkets.
As a result of its successful work and quality service provided in the retail sector of Macedonia during the last 14 years and in direction of achieving its mission and vision, Ramstore today offers its services in 7 different cities in Macedonia with 29 supermarkets and a total surface area of 24,317  m2.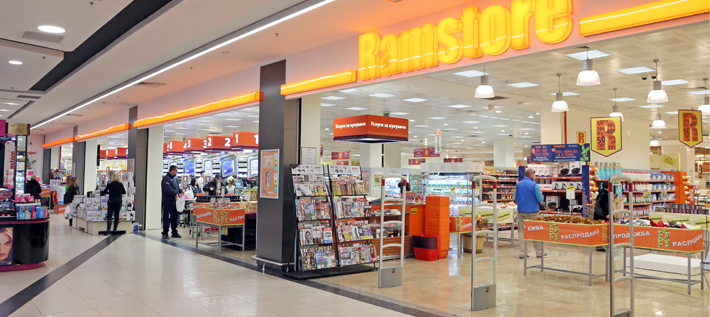 We opened our first supermarket in Skopje on June 10th 2005, and then we opened our supermarkets in Tetovo (2006), Chair Municipality in Skopje (2009), Tetovo (2010), Novo Lisiche Municipality (2010), Tetovo (2012), Struga (2013), Ohrid (2013), Kisela Voda Municipality (2012), Gorno Lisiche Settlement (2013), Aerodrom Municipality (2013), Kapishtec Settlement (2013), Kumanovo (2013), Ramstore Express Skopje (2014), Vodno (2015), Express in Struga (2015), Ramstore Express in Debar Maalo Settlement (2015), Kichevo (2015), Aerodrom (2015),City Mall (2016), Ramstore Express Kumanovo (2017), Ohrid Express (2017), Strumica (2017), Ramstore Taftalidze (2018), Ramstore Sever (2018), Ramstore Saraj (2018),Star Aerodrom(2019),Strumica Bulevar (2019)  we reached the total number of 29 supermarkets.
Ramstore Express format was created in order to meet basic citizens' needs for enabling them save time and take advantage of the benefits offered in form of various discounts and campaigns on a small surface area, same as those offered in large supermarkets.
The increase in the number of employees in the developed economies contributes to individuals' growing desire to allocate more time for them and spend less time in shopping. In this regard, our clients want to find wide range of products of various brands nearby their workplace or residence and do the shopping quickly.
All these facts indicate Ramstore has serious long-term plans which are consistent to the ongoing growth of Macedonia. Today, we have 750 employees in total in Macedonia and it is expected that the new investments shall also bring new employees.
During the last 14 years, we have set a goal to disseminate the idea of quality service and quality products while offering our clients one different experience of shopping in a completely new shopping world. We are welcoming our clients in Ramstore supermarkets in the best way possible by offering them various and fresh products. During this period, we did not just made physical investments but we have also invested in our customers' safety by acquiring the safety certificates ISO 22000:2005 and HACCP.
The new retail trend, apart from the price competition, is to offer customers new shopping experiences so they can feel unique and different. We believe that those who shall succeed to provide this shall also manage to increase the number of customers.
Customers' loyalty is a very important issue for us and Ramstore Card significantly participates in the turnover. The success of Ramstore Card loyalty programme lies in the advantages it offers and because it is easy to use.
By using their Ramstore Card our customers are given the chance to buy certain products for a lower price and on the basis of these products they can collect points. The points our customers have accumulated today, can be used from the very next day in a form of cash.
During the last 14 years, apart from the opening of the Mall and 20 supermarkets, Ramstore contact center was opened on 17.09.2014 for the purpose of offering our customers the best service possible. This is a unique service in the Macedonian retail sector and by introducing Ramstore Contact Center we became leaders on the market regulating this issue. We are proud to announce that Ramstore is a leader in this sector.
Ramstor's Contact Center service provides customers with answers to all questions related to Ramstor's operations and give them opportunity to convey their compliments and complaints and submit their proposals related to the operations of Ramstore supermarkets and Mall.
All calls received by Ramstore Contact Center are reported to the top management of the company and in this manner the directorates which should undertake measures are directly informed.
A proof that this service is created for loyal customers and Ramstore cares about their opinion is the fact that the phone number 0800 800 70 (Contact Center) is free of charge from all fix and mobile operators which makes the service available for all.
Last year we made a decision to invest in the functionality and appearance of Ramstore Mall for the purpose of constantly improving the services for our customers. The renovation of the mall located in the city center commenced in October 2014 and all the changes introduced successfully became visible.  Within the framework of these activities the mall was completely renewed and many positive improvements regarding the shopping atmosphere were introduced. This was the largest project realized since the mall was opened in 2005. The renovation of the external facade and the internal infrastructure was carried out by domestic companies. The cost of this investment was EUR 1,2 million.
As of June 1st 2015, Ramstore started producing meat in its own facilities and in this manner Ramstore itself controls the meat quality. Immediately after this phase, Ramstore started selling the meat in a new package. As of November 1st 2015, we have started selling the meat in the new package.
The advantage of the new package is that it is produced by applying a technique of packaging in a protected atmosphere and by using natural methods which enables the meat to remain fresh and safe to use. What is characteristic for this technique is that during the packaging procedure a specially selected combination of gases is used (which are naturally found in the air).
During this packaging procedure no chemicals are used and the meat does not suffer any physical or chemical changes.
The meat and meat products packaged in a protected atmosphere are prepared in accordance with all requirements for food production (HACCP).
Moreover,
Fresh meat is prepared every day.
The meat has been already prepared and buyers may just pick it up without having to wait for it.
It is easy and practical to carry since the packaging does not leak.
The products packaged by applying the standard technique remain fresh one or two days, whereas the products packaged by applying the new technique remain fresh and safe to use by the expiry of the best before date indicated on the packaging itself.